Qiriazi University College, formerly known as "Kyrias Institute" or the Girls' School, was founded in 1891 in the city of Korça, Albania. Despite its modest and humble beginnings, this educational institution quickly distinguished itself and became a beacon of hope and a vital cornerstone in the history of Albanian education due to its unwavering determination and passion. From the outset, the institution's worldview was international, despite its strong focus on national goals such as fighting illiteracy, promoting emancipation, and fostering national awakening. At the newly founded institution, Sevasti Qiriazi brings her extensive study experience from the American College of Istanbul to the newly opened institute. On the very day of her graduation, the renowned Albanian poet Naim Frashëri provided her with encouragement and guidance for this very idea. Inspired by the successful girls' schools in other countries, which had received significant support from the American Board, the Girls' School was founded. This highly regarded school has been upheld by significant contributions from both international institutions and individuals, spanning across various nations. Its legacy has been carried on from its humble beginnings in Korça to its current location in Tirana. The seamless functioning and operation of this educational institution owes much to the Albanian diaspora and various international missions in the country. These esteemed contributors have played a vital role in the success of this educational establishment.
To this day, after more than 130 years since the establishment of the Girls' School in Korça, and more than a century since the reopening of this institution in Tirana in 1922, Qiriazi University College continues to fanatically preserve its educational mission and international spirit that has characterized it since its inception over a century ago. Qiriazi University College has remained committed to providing exceptional education. Revitalized into a cutting-edge contemporary educational institution, modelling itself after the most prestigious schools in the United States and Europe, Qiriazi University College unwavering commitment to academic and professional excellence ensures that students receive the highest quality education. The university's international approach remains integral in the orientation and functioning of the university. In fact, this spirit has always been present at Qiriazi University College but, with the developments of the last decades, where globalization is becoming more and more tangible, the internationalization of higher education institutions has become an essential component for the growth and development of the institution.
In this context, Qiriazi University College is working in several directions simultaneously. The development of English language study programmes and curricula; contemporary academic and scientific literature; recruitment of international students; attracting international lecturers; international exchanges of students, lecturers, and administrative staff; etc., make it necessary to implement the English language in teaching and scientific research at the university.
In addition, the International Relations and Project Management Office at Qiriazi University College has already reached a number of cooperation agreements with universities in the region, Europe, and beyond, and is always on the lookout for new partners with experience and the highest levels of quality. Until now, Qiriazi University College has partnered with higher education institutions from Austria, Germany, Italy, Croatia, Azerbaijan, Kosovo, and North Macedonia, among others. Not only has the partnerships been with HEIs, but also with academies, corporates, and recruitment agencies that enable our students to complete their academic/professional internship and find employment in EU countries. Qiriazi University College has prioritized fostering cooperation in the fields of innovation and technology, and joint study programmes with reputable international universities.
International projects are another area in which Qiriazi University College is involved. European Union programmes such as Erasmus+, Horizon Europe, Jean Monnet, etc. are some of the programmes of interest. Additionally, Qiriazi University College has outstanding relationships with many international partners in the country, including embassies of different countries and international organizations. The solid and longstanding relationship with these institutions has enhanced our university's international dimension through fruitful cooperation.
Despite the international spirit, international contributors to the establishment and operation of Qiriazi University College, relations and partnerships with various institutions, universities, academies, and companies across the world, Qiriazi University College has always been an Albanian educational institution with an extraordinary contribution in Albanian society. Nevertheless, in light of the most recent global developments in the field of higher education, it is time for this educational institution to broaden its impact beyond our borders through international projects, scientific research, the attraction of international students and lecturers, joint study programmes, international conferences and symposiums, and more. As the oldest higher education institution in the country, Qiriazi University College holds a significant responsibility to lead the development and internationalization of Albanian higher education.
The International Relations and Project Management Office is the body responsible for the internationalization of the institution, the cooperation of the university with its partners, and the management of projects in which the institution is involved. Currently, Qiriazi University College has cooperation agreements with institutions and organizations from all over Europe and beyond. However, our institution is open and welcomes initiatives for cooperation from new potential national and international partners. For any proposals and suggestions in this regard, you can contact us via email: [email protected]
——————————————————————————————————————————————————————
QIRIAZI UNIVERSITY COLLEGE comprises three Faculties, namely the Faculty of Economics, the Faculty of Law, and the Faculty of Education, Social Sciences, and Sports, and a Higher Vocational College, offering a wide range of programmes including Vocational, Bachelor, Master, and Integrated Studies degrees.
FACULTY OF ECONOMICS
Connecting For Impact
The mission of the Faculty of Economics is to foster collaboration among students, scholars, and external stakeholders to address jointly economic and business challenges on local, national, regional, and international levels. The faculty aims to empower and make a meaningful impact not only in the world of business but also in society at large.
The Faculty of Economics offers Bachelor and Master of Science study programmes in its fields of teaching and research.
Bachelor Degrees:
Finance (three-year programme)
Business Management (three-year programme)
Hospitality and Tourism Management (three-year programme)
Economics & Business Informatics (three-year programme)

Master of Science (MSc) Degrees:
Finance (two-year programme)
Business Administration (two-year programme)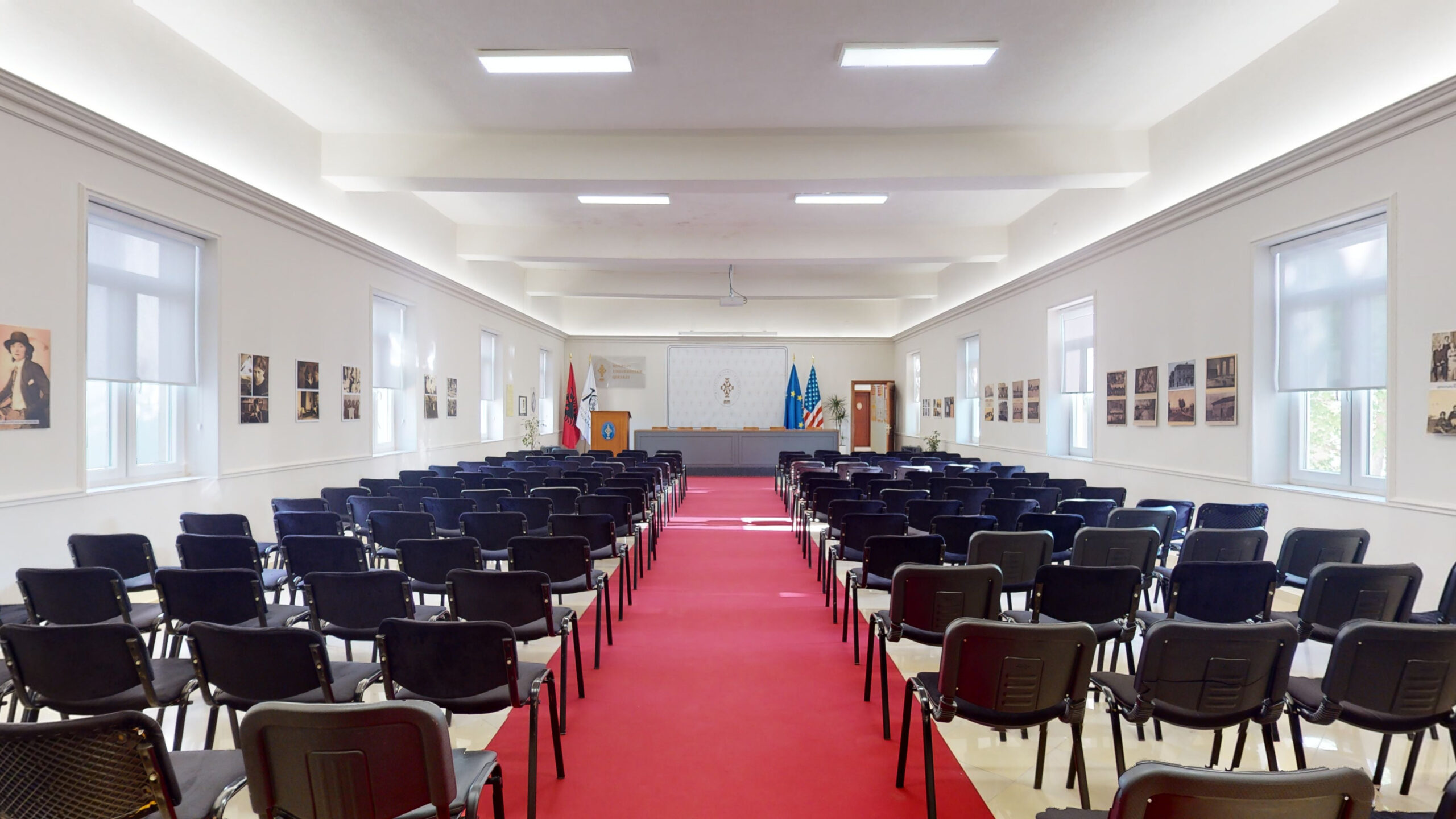 FACULTY OF LAW
Shaping Tomorrow's Society
The Faculty of Law offers excellent education that equips our students with the knowledge, skills, and ethical values necessary to excel in the legal profession and make a positive impact on society. We are committed to foster a dynamic and inclusive learning environment that encourages critical legal thinking and a deep understanding of the law's role in promoting justice, upholding the rule of law, and addressing the complex legal challenges of our time. We strive to produce graduates who are not only highly competent legal professionals but also compassionate and socially responsible individuals. Our mission is to shape tomorrow's society by promoting excellence in teaching, research, and service.
The Faculty of Law offers Integrated Studies programme and Higher Vocational programme:
Integrated Studies Degree:
Law (five-year programme)
Higher Vocational Degree:
Legal and Administrative Assistant (two-year programme)
FACULTY OF EDUCATION, SOCIAL SCIENCES, AND SPORTS
Shaping Minds, Empowering Futures
We believe that education, social sciences, and sports have the power to shape minds, transform lives, and create a better world. The faculty is committed to providing experiential learning opportunities that equips students with the knowledge, skills, and values necessary to excel in education, social sciences and the world of sports. Our mission is to create an educational environment that sparks competitiveness and intellectual curiosity.
The Faculty of Education, Social Sciences, and Sports offers Bachelor study programme and Higher Vocational study programme.
Bachelor Degree:
Physical Education and Sports (three-year programme)
Higher Vocational Degree:
Social and Health Care (two-year programme)
HIGHER VOCATIONAL COLLEGE
Unlocking Potential: Practical Skills for Real-World Success
The Higher Vocational College is an important part of Qiriazi University College. The mission of the Higher Vocational College is to provide high-quality vocational education that equips students with the practical skills, knowledge, and professional competence necessary for success in the labour market. Our specialized programmes are tailored to meet the evolving demands of today's market, spanning across various industries from business and technology to legal, food technology, healthcare and hospitality. Our curriculums are expertly designed in collaboration with industry experts and international educational institutions, ensuring that our students acquire the highly sought-after skills that employers look for. Through our extensive industry connections, we provide placement assistance, internships, job opportunities that align students with their career goals. By bridging the gap between education and employment, we strive to facilitate the integration of our graduates into the labour market, and enable a brighter future for them.
Explore our vocational industry-specific programmes designed to meet a variety of career paths and market demands.
Legal and Administrative Assistant (two-year programme)
Social and Health Care (two-year programme)
Food Technology (two-year programme)
Information Technology and Communication (two-year programme)
Hospitality and Tourism (two-year programme)
Virtual tour : https://my.matterport.com/show/?m=6ZBLWYwDSHk

Documentary : https://www.youtube.com/watch?v=x8kNmo3biW8